Digital 3D Portfolio
Below are some examples of digital 3D content created by the Centre for Educational Technology at the University of Tartu.
Example 1. Geography 3D models
The following example is a 3D model of different geography landforms used by by Kristjan Rea in his Master's thesis project (supervised by Leo Siiman) to compare problem solving using digital 3D models on tablet computers versus problem solving with typical 2D paper-based materials. In this example students were asked to match contour line drawings of landforms to corresponding 3D or 2D models. The results showed a statistically significant difference favoring the 3D group over the 2D group. His thesis (in Estonian) can be found here.
To navigate the 3D view in the below model, you must apply three controls:
Panning. 2-finger drag or Right Mouse Button
Rotating. 1-finger drag or Left Mouse Button
Zooming. Pinch in/out or Mousewheel
Try to match this contour line drawing to the correct 3D model.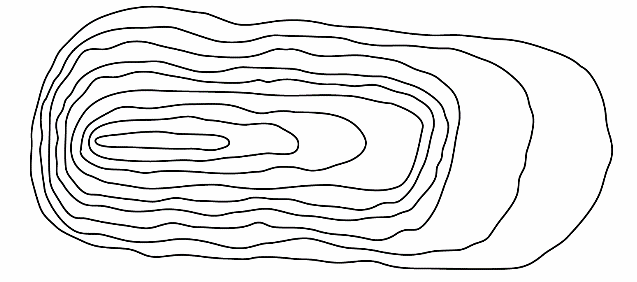 Example 2. Biology 3D models
As part of a digital learning materials package commissioned by the Estonian Research Council for teaching topics in high school biology, we created digital 3D models of different human body systems (e.g. respiratory, digestive, excretory) to help students visualize the main parts of these systems. The below model illustrates the respiratory system. The complete learning package included lesson plans and worksheets to accompany these models as well as a broad variety of additional digital learning materials. All the materials can be found at http://www.biodigi.edu.ee.
Research publications based on these 3D biology models can be found in the following two papers:
Siiman, L. A., & Pedaste, M. (2013). Towards a pedagogy for using digital 3-D content in science education. ICERI2013 Proceedings, 5992-5999.
Siiman, L., Mäeots, M., & Pedaste, M. (2014, October). Learning Biology With Interactive Digital 3D Content: Teacher Attitudes. In European Conference on e-Learning (p. 478). Academic Conferences International Limited.
Example 3. Digital 3D scanning
During in-service teacher professional development training at the University of Tartu, we have used activities with a 3D scanner to introduce teachers to digital 3D technologies. Teachers get the opportunity to use a hand-held scanner (Cubify Sense, approx. cost 400€) to practice scanning each other, edit the result in the Blender software and upload it for online viewing and presentation at a free 3D hosting site such as Sketchfab. In addition, we have delivered 3D scanning workshops to young people at events such as Robotex (see this media article). An alternative, but more time-consuming, way we have used to create digital 3D models is to take a series of 2D photos at various angles around an object, and then use image processing software (e.g. VisualSFM, 123D Catch) to construct the final 3D model.
Summary
In summary, we have range of experience with digital 3D technology and hope to continue applying our experience to achieving educational goals.